~Towards the future~
Together with our guests, we will create a chain hotel that is mindful of the future of the world.
Toyoko Inn has more than 70,000 guest rooms across 42 prefectures and supports the "start" of more than 20 million guests each year. In addition, we also provide our services to people of the community who have difficulty returning home or those who have difficulty staying at home in the event of a natural disaster or emergency. While playing a role as social infrastructure, hotels also consume a lot of energy and emit CO2 every day.
As we operate a hotel chain with the largest number of guest rooms in Japan, striving to "create hotels that are mindful of the future of the earth" is our responsibility.
Consume resources responsibly, reduce waste, and reduce CO2 emissions. With the understanding and cooperation of all employees, everyone in the community where the hotel is located, and guests, we will work towards this goal step by step.
Toyoko Inn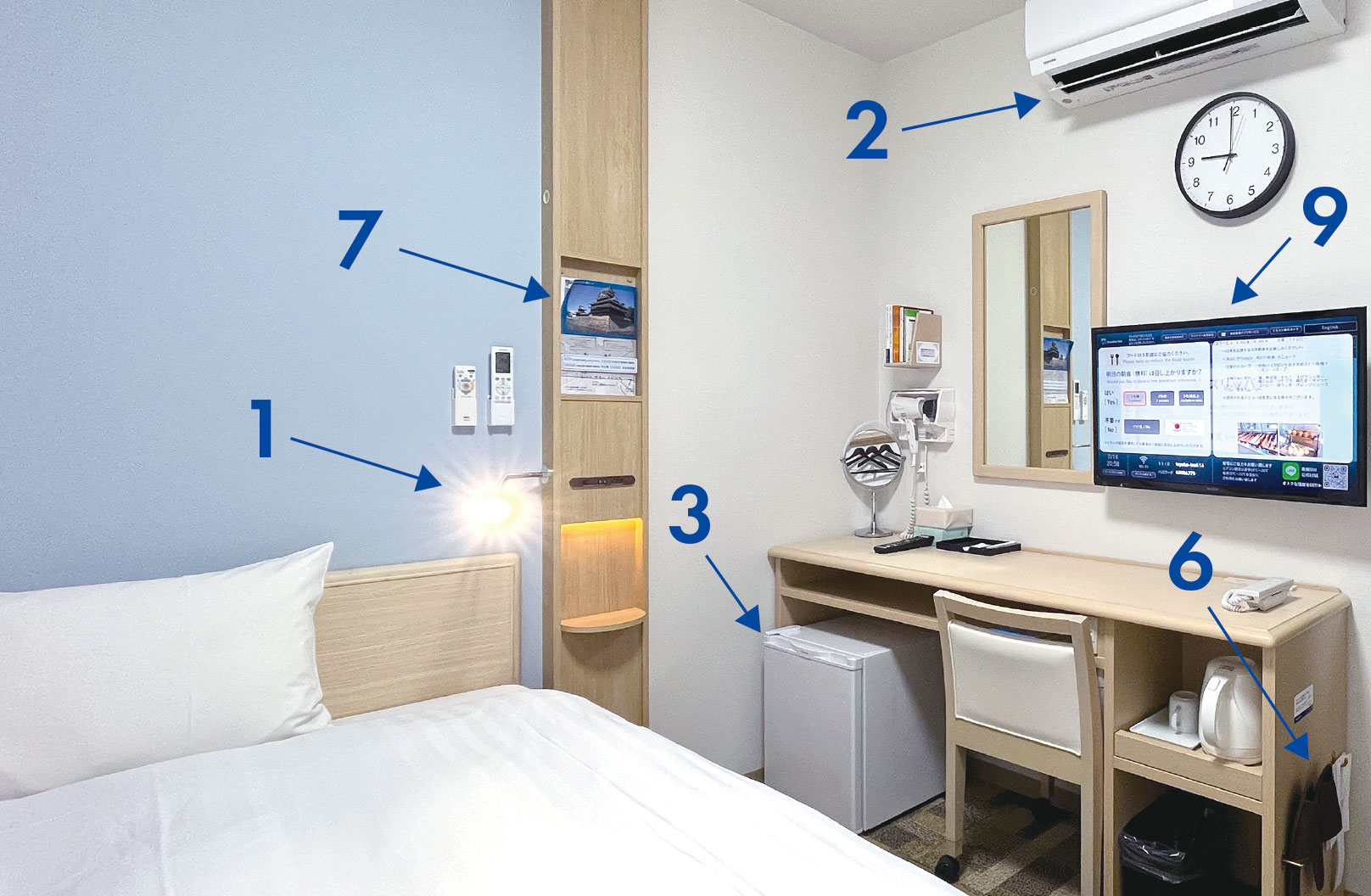 1.

Lighting: Saving in electric power was achieved by the introducing LEDs lights. In addition, the shared toilets on the lobby floor use motion sensor lighting to reduce unnecessary power consumption.
2.

Air conditioning: Introduced an individual air conditioning system that can adjust temperature for individual rooms, reducing power consumption of vacant rooms.
3.

Guest Room Refrigerator: Set to energy-saving mode.
4.

Blackout curtains: Minimize the power required for air conditioning.
5.

Regular cleaning: We carry out regular cleaning of air conditioning equipment to reduce power consumption.
6.

Slippers: We provide clean reusable cloth slippers every day as our efforts to practice reusing resources (excluding some hotels).
7.

Guest room magazine "Tanoyaku": We use of environmentally-friendly paper.
8.

"

ECO Plan

": We offer environmentally friendly accommodation plans that omit room cleaning and linen change for stays longer than 2 nights.
9.

Breakfast questionnaire: Guests are asked whether or not they will eat "complimentary breakfast" the next morning on the guest room TV monitor. This ensures that the right amount of breakfast is prepared and reduce food loss.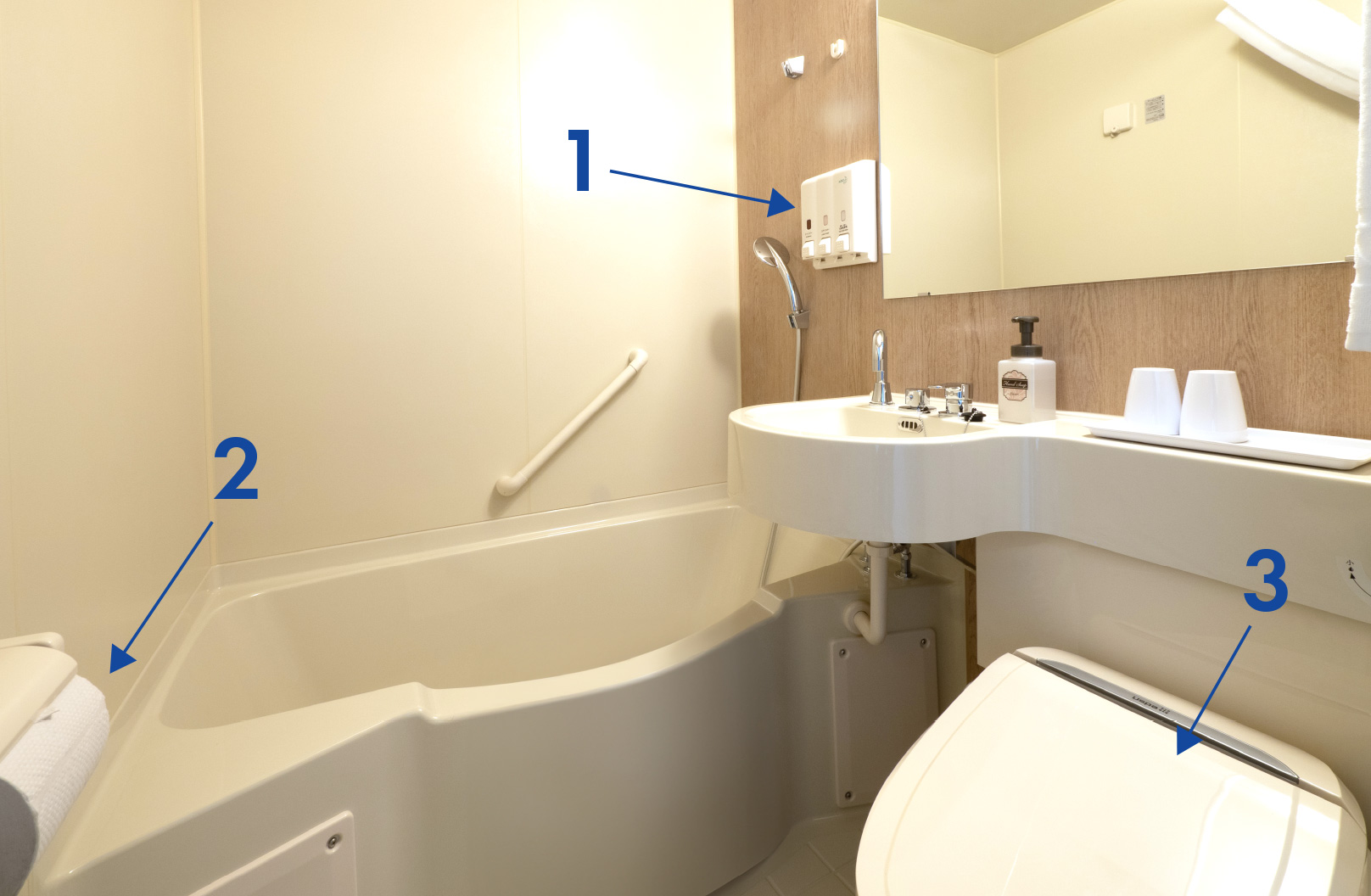 1.

Bathroom Dispensers:
We provide shampoo, conditioner, and body soap through dispensers in an effort to reduce the waste of soaps as well as packaging materials.
2.

Toilet Paper: Recycled toilet paper is provided.
3.

Toilet water: The water used in the shower is filtered and reused as water to flush the toilets in the hotel (excluding some stores).
4.

Collection of some single use plastic waste: We have started collecting used toothbrushes and combs and reuse the materials to produce toothbrush cases.
5.

Amenity Corner: Instead of having amenities in guest rooms such as such as toothbrush sets, combs, razors, we have created amenities corner near the reception, in order to allow guests to take only what they need.
~Doing what we can, little by little~
Toyoko Inn Blue Reborn Project"
In October 2021, Toyoko Inn launched the Toyoko Inn Blue Reborn Project as an initiative to contribute toward environmental sustainability. In order to create a hotel that is mindful of the future of the earth, we will review materials such as amenities, as well as the method of provision, and work together with our guests and cooperating companies to make effective use of resources and reduce the number of wastes produced and disposed of.
Collection of used plastic amenities
From 1 October 2021, we started collecting used plastic amenities at many of the Toyoko Inn in Japan. Collected items include toothbrushes and combs. A collection box has been installed in the bathroom of each guest room to allow guests to dispose of their used plastic amenities. Through such initiatives together with Japan Environmental Design Co., Ltd. and Onward Trading Co., Ltd., the collected products are recycled appropriately and reborn as brand new toothbrush cases.

Each toothbrush weighs 7 grams and combs 6 grams, but if these are discarded at all Toyoko Inn stores for a year, the estimated amount is more than 50 tons. As a hotel that is mindful of the global environment, in cooperation together with hotel guests, we aim to make effective use of resources and reduce the amount of waste disposed of.
Selling original sparkling water in aluminum can bottle
From December 2021, vending machines at all Toyoko Inn stores in Japan (excluding some hotels) have selling original sparkling water in aluminum can bottles.
<Plastic Free>
Aluminum can bottles are sustainable containers that can contribute to the realization of a plastic-free society.
<Supported by a portion of the proceeds from sales>
Toyoko Inn supports the Classical Concert for 1 Million People. The foundation is working to support and nurture young musicians, touch everyone in their daily lives through music, and deliver a boost in mental health and enriching experiences to the children who will lead the future. A portion of the sales proceeds from Toyoko Inn's vending machines is used for such activities.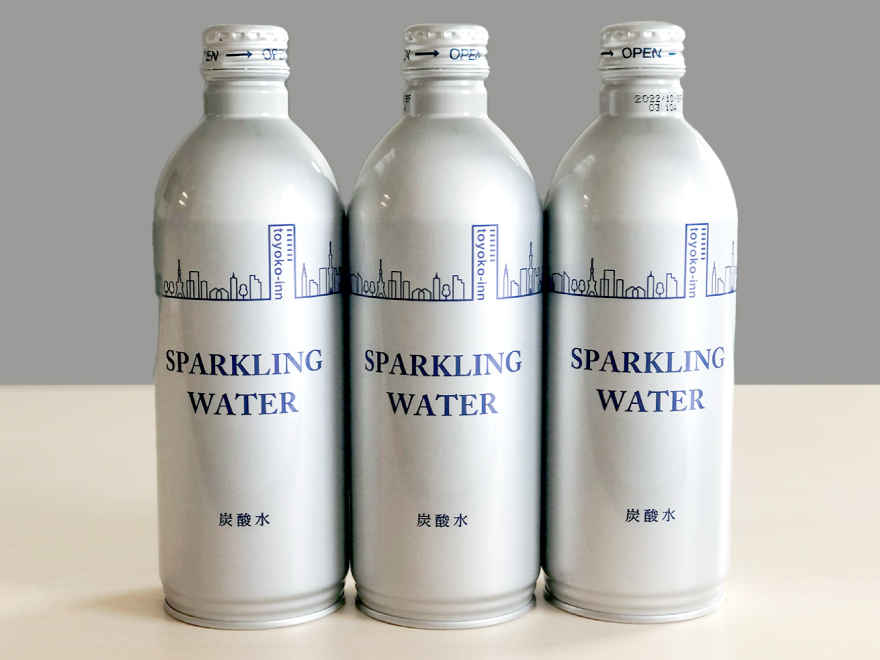 Build a win-win relationship through co-exisiting and joint prosperity with the local commnuity
Based on the cornerstone concept of "Being accepted by society as a corporate citizen", "Contributing to regional revitalization and development", and "Contributing to regional revitalization and development", Toyoko Inn seeks to contribute to region and society by undertaking a wide range of activities.
Revitalizing the Local Community with Art and Culture
We have allocated gallery spaces where artworks by local artists are being exhibited in the following branches:"Toyoko Inn Kofu-eki Minami-guchi No.1", "Toyoko Inn Sakudaira-eki Asama-guchi", "Toyoko Inn Shonan Hiratsuka-eki Kita-guchi No.1", "Toyoko Inn Tsubame-Sanjo Ekimae". The aim is to revitalize the local community and become the place of interaction and exchange between guests and the community.

We operate one of the largest art facility in Tokyo, "Art Factory Jonanjima" (Ota-ku, Tokyo), which is a renovated warehouse. We support the exhibition of artworks and creative activities of artists. This facility received the "Art Creation Award" under the "2018 Mecenat Excellence Award". The Art Factory also received the "3rd Ota Ward Landscape Town Development Award" in 2020, under the "Landscape Creation Activity Category".

Ukiyoe painting from the Edo era is exhibited at the Ukioyoe Museum in the Toyoko Inn Narita Airport Honkan. The way of business in the Edo era is reflected in the idea of "Sampo Yoshi" (Triple Win) for buyer, seller and the local community, whereby all involved are satisfied in doing business and in turn contribute towards a positive society, which resonates with Toyoko Inn's business philosophy.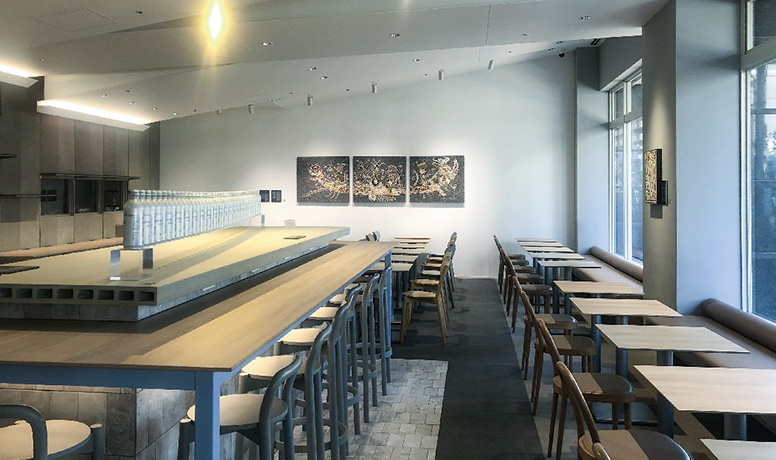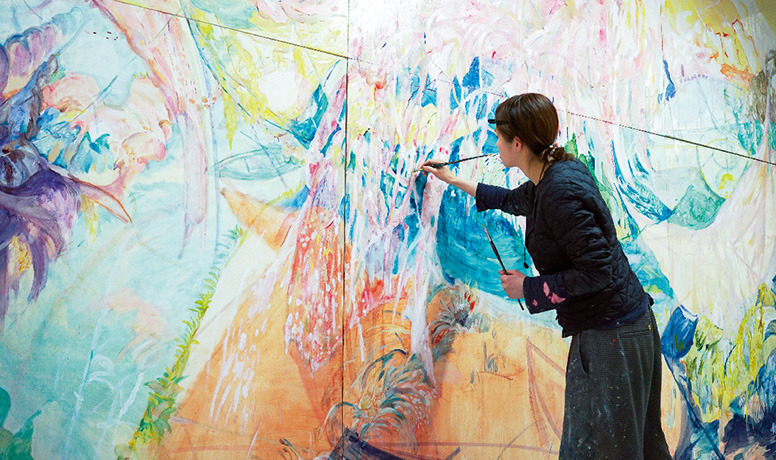 Connecting People with Classical Music ~"Classic Concert @ Toyoko Inn for 1 million people"~
"Delivering Music to Children Project" to provide boost in mental health and enriching experiences through music.
Since 2015, with the desire to "revitalize the community through the power of music" and "improve society through the power of music", we have cooperated with Classical Concert for 1 Million People and participated as an organizer, and held concerts at Toyoko Inn lobbies nationwide. In addition, the "Delivering Music to Children Project" was started by the foundation in 2020 with the aim of "delivering a boost in mental health and enriching experiences through music" to children who will lead the future. This is held in places where local children gather, including children who need financial support, such as children's cafeterias and learning support bases. In addition to helping to hold and operate this project, we donate a part of the sales proceeds from Toyoko Inn's vending machines to help with our activities.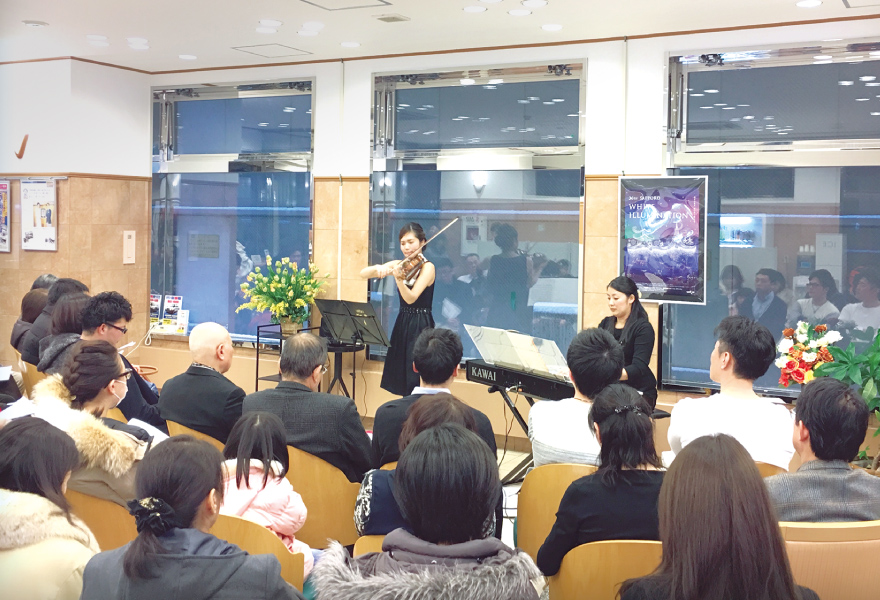 Simulating children's "First Business Trip"
Began in 2005, "My First Business Trip" event allow elementary school students to leave home and stay at a hotel, experiencing a "business trip" just like business people. This social learning program has been a huge hit with parents and schools, and has established in the local communities.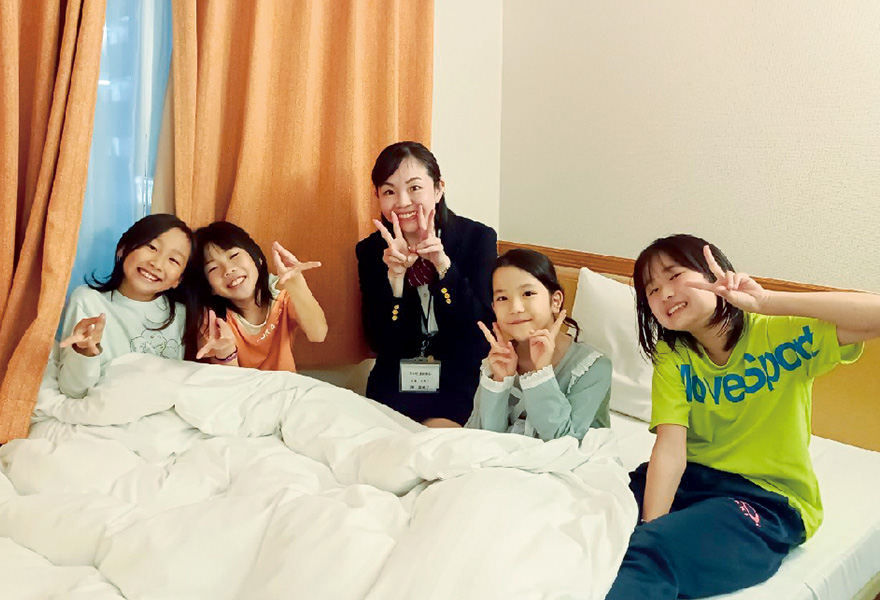 Helping sports organizations to develop our youth and contribute regionally
Toyoko Inn became a special sponsor of the tournaments organized by the Japan Junior Golf Association, and established Toyoko Inn Junior Golf Open which has been held since 2015. We aim to support the dream of junior golfers to "become a top world-class professional golfer".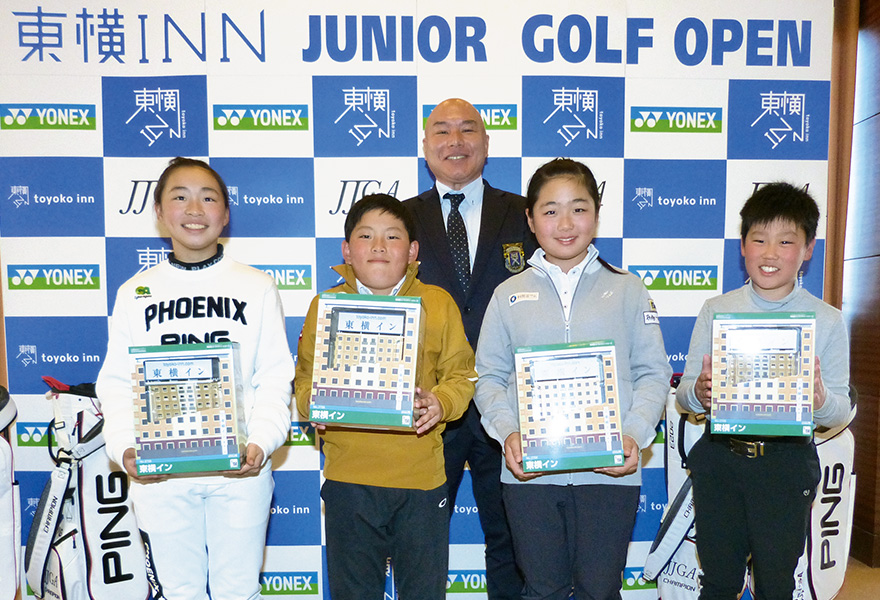 We have been co-sponsoring the "National Children's Challenge Cup Tournament" alongside the Japan Children's Fitness Association since 2014, and we are supporting activities that promote children's mental and physical health together with the community.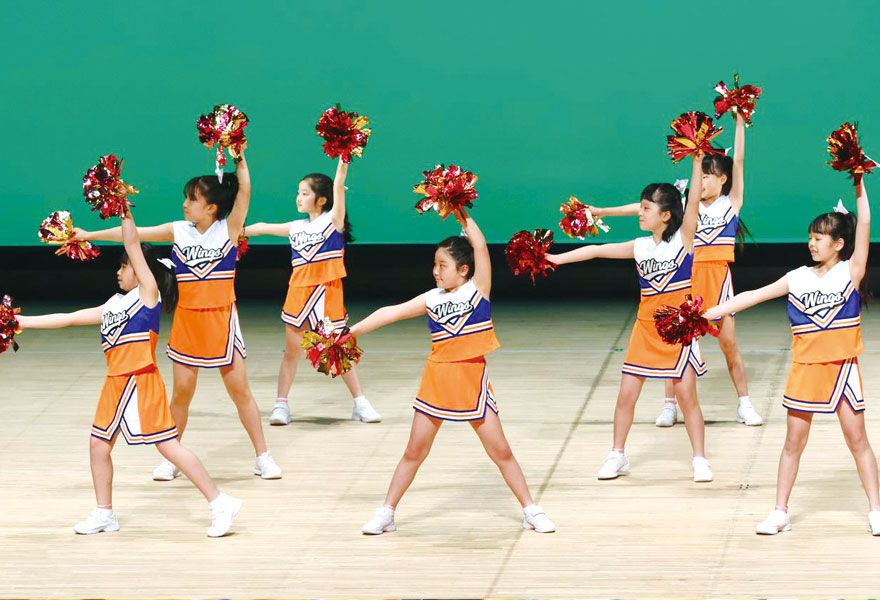 Donations and Cooperation with Various Organizations
All Toyoko Inn Managers are sponsor parents for Filipino Children
【Child Fund Japan】
Following the Second World War, assistance from the United States Christian Children's Fund in support of Japanese war orphans helped save the lives of over 80,000 children. In an attempt to pay forward all the support Japan has received, Child Fund Japan has been active since 1975 in promoting healthy growth for children living in poverty in Asia, as well as independence of family and community. All Toyoko Inn managers have become sponsor parents to children in the Philippines, and we are actively supporting the work of this organization.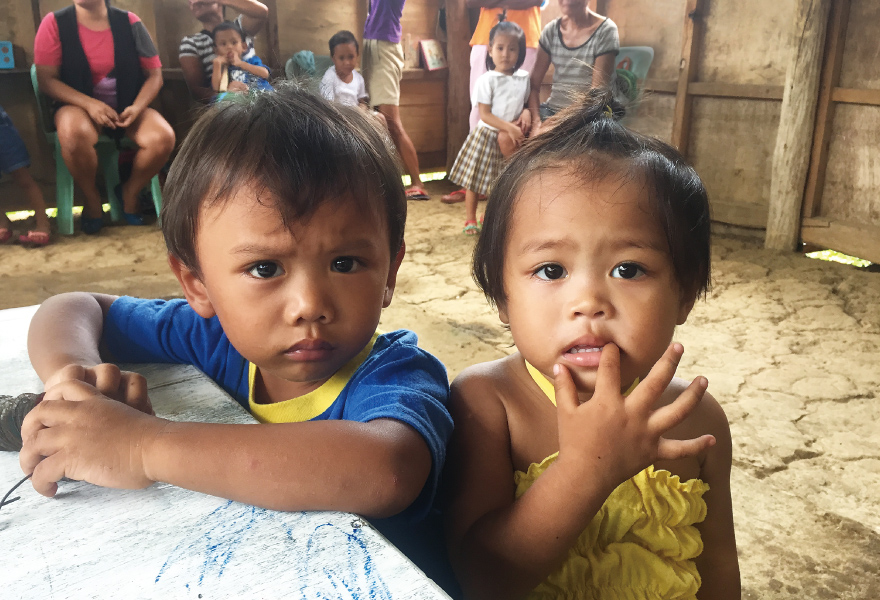 Building Elementary Schools in Cambodia
【Shanti Volunteer Association】
With the support of the Shanti Volunteer Association and donations made to collection boxes placed at the front desks of our hotels, Toyoko Inn has built elementary schools in Cambodia in order to realize children's dreams of going to school. Made possible by donations made by our guests 3 schools have been completed and opened.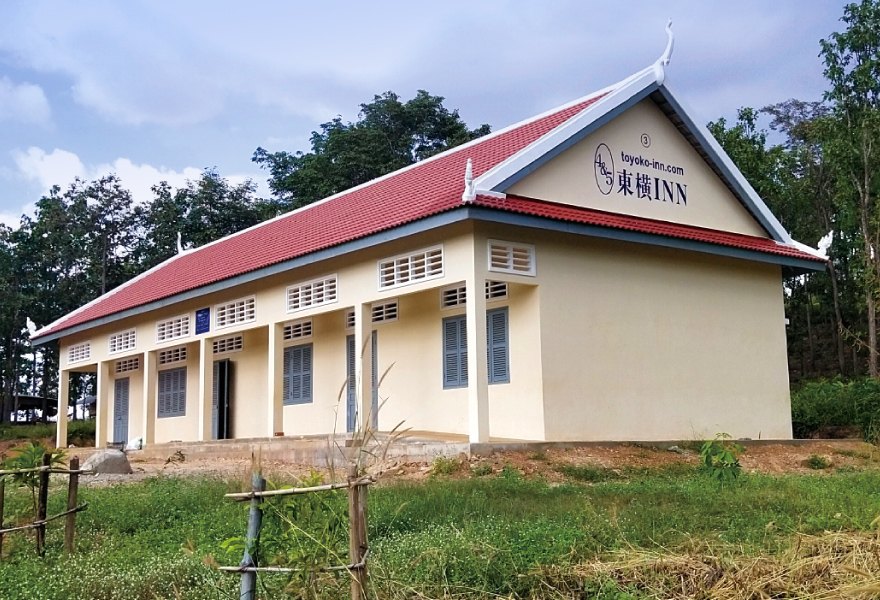 A portion of VOD sales proceeds is donated to provide medical support in Asia and Africa
【Japan Overseas Christian Medical Cooperative Service】
"To help improve the situation in regions where medical care is not fully available, Toyoko Inn donates a portion of its VOD sales proceeds to support the activities of the Japan Overseas Christian Medical Cooperative (JOCS)."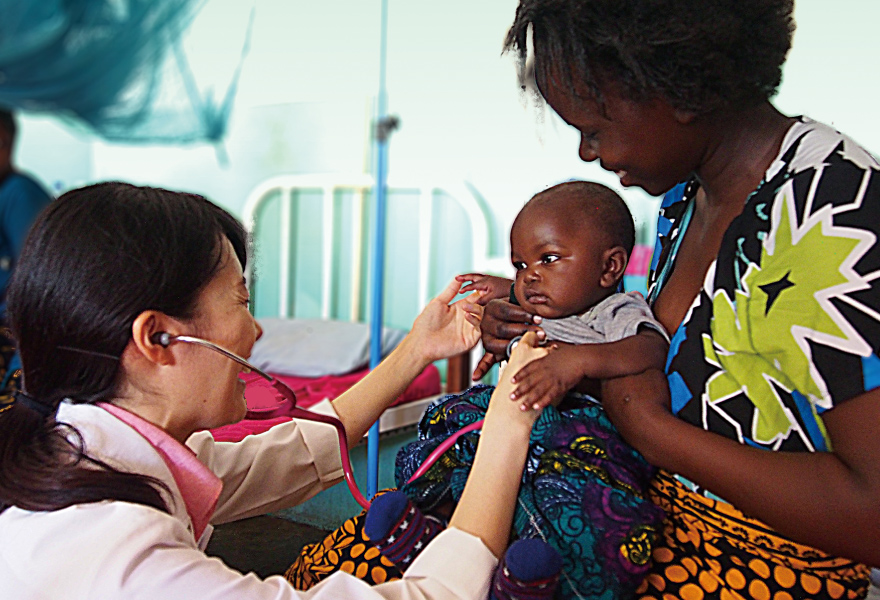 Creating a world where children are not bought and sold
【KAMONOHASHI PROJECT】
In order to eliminate an "abject environment for children" such as child abuse, we sponsor and support the efforts of the Kamonohashi Project, which is active in India and Japan, through donations, fundraising, and volunteer cooperation.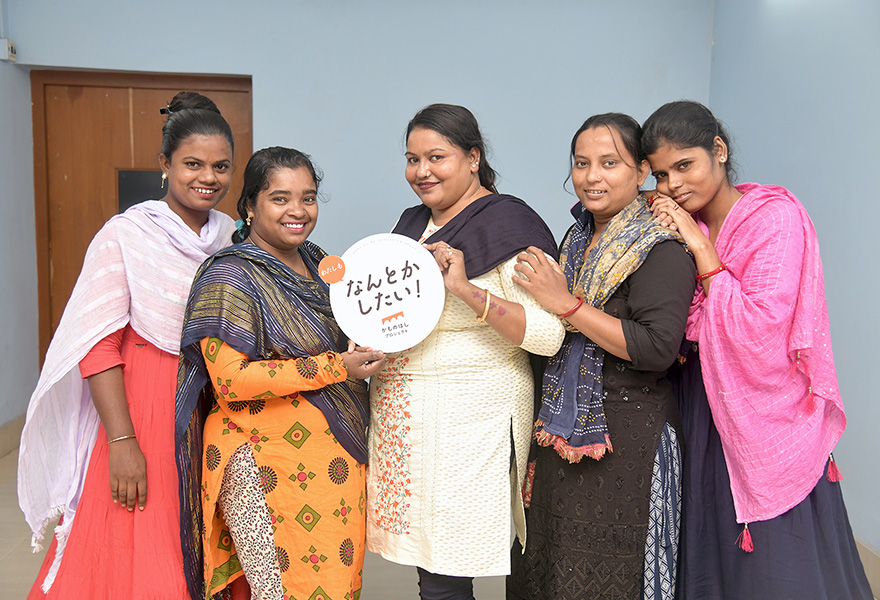 Other
| Names of Donor and Cooperating Organizations | Outline of the Organizations' Activities |
| --- | --- |
| Foundation for Orphans from Automobile Accident | Promotion of activities to provide a stable livelihood for surviving children of persons dying in vehicular accidents |
| The Japan Crime Prevention Association | Development of crime prevention activities in every prefecture of Japan |
| Naikan Foundation | Research and training for carrying out naikan |
| National Federation of UNESCO Associations in JAPAN | Realization international peace and humans common welfare |
| Social Welfare Corporation Fukuden-kai | Facility management of foster homes and foster parents |